A programmable thermostats is an equipment which helps in maintaining the temperature of a room through the switching of heating and cooling button on/off. This is possible for the thermostat through sensing the heat through the sensor that is included in the thermostat.
So, thermostats helps in to regulate the room temperature to the preferred temperature degree. If you need the best programmable thermostats the fit for your heat pump with emergency heat, then you are in the right place. In this content, we provide you the best programmable thermostat for your heat pump.
Having high-quality thermostat will save you a lot of cash and enhancing the energy efficiency of the heat pump very well. But before you decide to buy a thermostat, you have to bear in mind that not all the thermostat can be compatible with the heat pump. It is very compulsory to select the best programmable thermostat for your heat pump.
[easy-pricing-table id="653″]
THE CRITERIA FOR CHOOSING BEST THERMOSTAT FOR YOUR HEAT PUMP
   As I have stated the first criteria in choosing the best thermostat for your heat pump is the compatibility.  Your thermostat must be compatible with your heat pump.
   Another criterion is the wiring system. The programmable thermostat model that your intent to purchase must support the wiring system of your heat pump
   If in case your heat pump contains AUX/emergency heat system, then it is necessary to buy the thermostat that supports this feature. Therefore, if you have a heat pump that includes aux heat, go for the programmable thermostat that mainly supports heat pumps with aux heat.
WHAT IS EMERGENCY HEAT AND AUXILIARY HEAT ON A HEAT PUMP
As we all know heat pump operates like air condition. They both provide heat and cooling to your home. Their heating pump brings then heat from the outside. So, the moment the outside temperature is becoming lower, it will be little complicated for the heat pump to bring the heat into your home until it reaches some point in which heat pump can no longer transfer the heat inside. That's when emergency/ AUX comes in; it helps regulate the heat pump when the temperature is high and low.
4 Best Programmable (Smart) Thermostats for Heat Pumps with Emergency (Auxiliary) Heat
The Emerson Sensi thermostat is a superb all-around thermostat that checks all of the essential boxes when it comes to capabilities and functionality. While this is the best design for heat pumps with aux heat, it is also an excellent option for other forms of heating systems similar to fuel burning furnaces and radiators. Along with checking the high temperature at home this thermostat will work also show you the relative humidity on display and, it's a smartphone app.
  Save about 23% on HVAC energy
  Set up in half an hour or much less
  Extensive compatibility
  Smart home compatible
  Can be control everywhere
  Hd touchscreen display and enhanced features
Honeywell offers a broadened range of products and accessories that can complement nearly any home or place of business. Designed to surpass any expectations, customized your comfort at home and program your thermostat to fit your home with the Honeywell Home Wi-Fi Smart Color Programmable Thermostat. You can control your Honeywell home thermostat through Alexa or adjust setting through google home. This WIFI thermostat may also qualify for utility rebates in your area .
  Helps save on your energy bill
Smart response technology
  Includes color touchscreen display
  Customization programming
  Can easily control anywhere
With built-in Alexa voice service, Ecobee4 can pay attention to your voice commands and responses.  You can set a timer, read you the news and change the heat range. This also works well along with other Alexa Equipment by aiding ESP. It also is included with a room sensor that helps manage hot or cold spots in your home, delivering ease and comfort in the areas that matter. And just because they can identify occupancy, they can quickly enable the appropriate mode on your Ecobee4 for energy preserving when it senses nobody is around at home.
Helps you to save money
Features room sensors
Can easily install yourself
Control everywhere
Built-in Alexa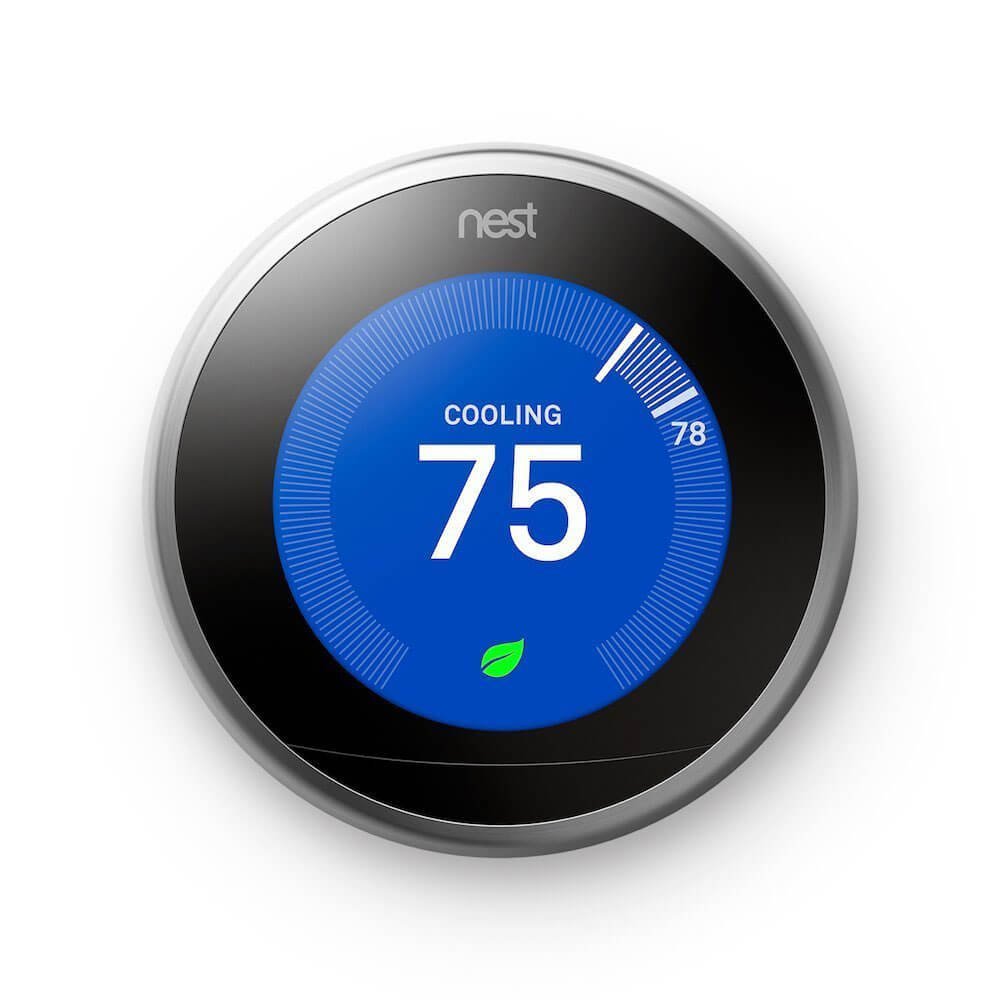 Nest (T3007ES) Learning Thermostat can regulate the High temperature for Every Room in Your House, Stainless Steel (Third Generation), Works together with Alexa. With Far sight, it illuminates whenever it sees you coming and shows you the time or heat from across the room in your home. And the Nest Thermostat is proven to save energy. That's the most breathtaking part.
This thermostat will help make your home smart and energy efficient. With just a few manual alterations, the Nest Thermostat can learn your habits and commence to help you save money by quickly adjusting the temperature.
   Works with Alexa for voice regulate
   Save energy
  Display can be read from across the room
   Style for each and every home